Summer Tournament Week 2021
Sunday 21 MARCH – 28 MARCH 2021
by Mr Overmayer on Mar 29
How bliss was it, to have a summer tournament week once again. We began the week by sending off our Volleyball Boys and Girls to Palmerston North on the Sunday, along with our Futsal Girls who flew down to Wellington. Our Futsal girls competed against 24 girls schools from across the country and finished 1 placing away from a top 10 finish, as 11th best Secondary School Futsal Girls team in the country. An awesome achievement for a new and young team.
Our Volleyball Boys had their full talent on display again and against 80 Senior Boys teams, they placed 5th in New Zealand. Jarod Robert and Stephen Hockey were selected into the tournament team which is traditionally selected from the top 2 teams, showing just how great they performed at the tournament. Our Senior Girls Volleyball team, which are predominantly Year 12's, learnt a lot and developed throughout the tournament, placing 15th in Div 5. Also competing in Wellington later in the week was our Futsal Boys. The boys had a very difficult first pool against tournament winners Tauranga Boys, among other big names; St Andrews College, Rotorua Boys High School and MAGS (Mount Albert Grammar School). This then progressed the boys to the plate final where they placed 24th out of 39 teams.
Over on the Mountains, we saw Ben Mexted competing in the North Island Secondary Schools Mountain Biking Champs and placing 3rd overall in the downhill series, with a narrow 0.4s split away from placing second. Ben was also voted best school shirt by Cycling NZ for his originality in meeting the schools colours through a funky shirt.
Over on the water in Rotorua, Blue Lake Tikitapu, we saw Liam Lidell-Andersen placing 3rd overall in the 250m J16 Plate Final at the NZSS Champs. This was Liam's first year competing in Waka Ama. North from this was our WBoP Athletics Champs held in Tauranga where we took a team of 14 athletes to the competition. Half of the team qualified for North Island Secondary Schools Champs to be held in two weeks time. Highlights included Joshua Cavanagh and Aizen Chong with bronze medals in the 2km Steeplechase in Intermediate and Senior Boys, respectively. Joshua Cavanagh also placed 7th in the 1.5km run. Samara Cribb secured the Silver in the Junior Girls Long Jump, while Louie Endres acquired the Silver in the Intermediate Boys 1.5km run. Ayla Strauss placed 4th in the Intermediate Girls Javelin, competing against club athletes as a novice thrower. Lily Murray showed that there's more to her than showjumping and acquired the Gold medal in the Intermediate Steeplechase, while Alicia O'Connor showed the Senior Girls that Hillcrest came to win, securing the Gold medal in the 300m Hurdles and Bronze medals in the 100m Hurdles, 400m Sprint and High Jump.
This year's Maadi Cup Regatta saw our rowers secure 2 C Finals, 8 B Finals and 2 A Finals, including a Maadi Cup Silver medal. This is a massive achievement considering there were 2,600 competitors at this year's regatta. Rowan Giles, Mia Begbie-Daniels, Raetara David, Lilyko Feehily and Bria Duncan as Cox, were our A Final U15 Four who placed 7th in New Zealand. The girls were racing in our Rutherford boat and what's even more impressive about this performance is the fact that these girls are in their first season and only rowed as a crew for a month in the four. It's not every year that you pick up a Maadi medal and Justin Smyth did just that! Placing 2nd in New Zealand in the Boys U16 Single Scull for our last race of the regatta, Justin did Hilly and himself proud.
Tune into Justin's final here:
Slide to timestamp 8:07:45 and you're in for a treat. It could have easily gone Justin's way for the Gold.
Winter Tournament: Hillcrest Girls Football Runners-up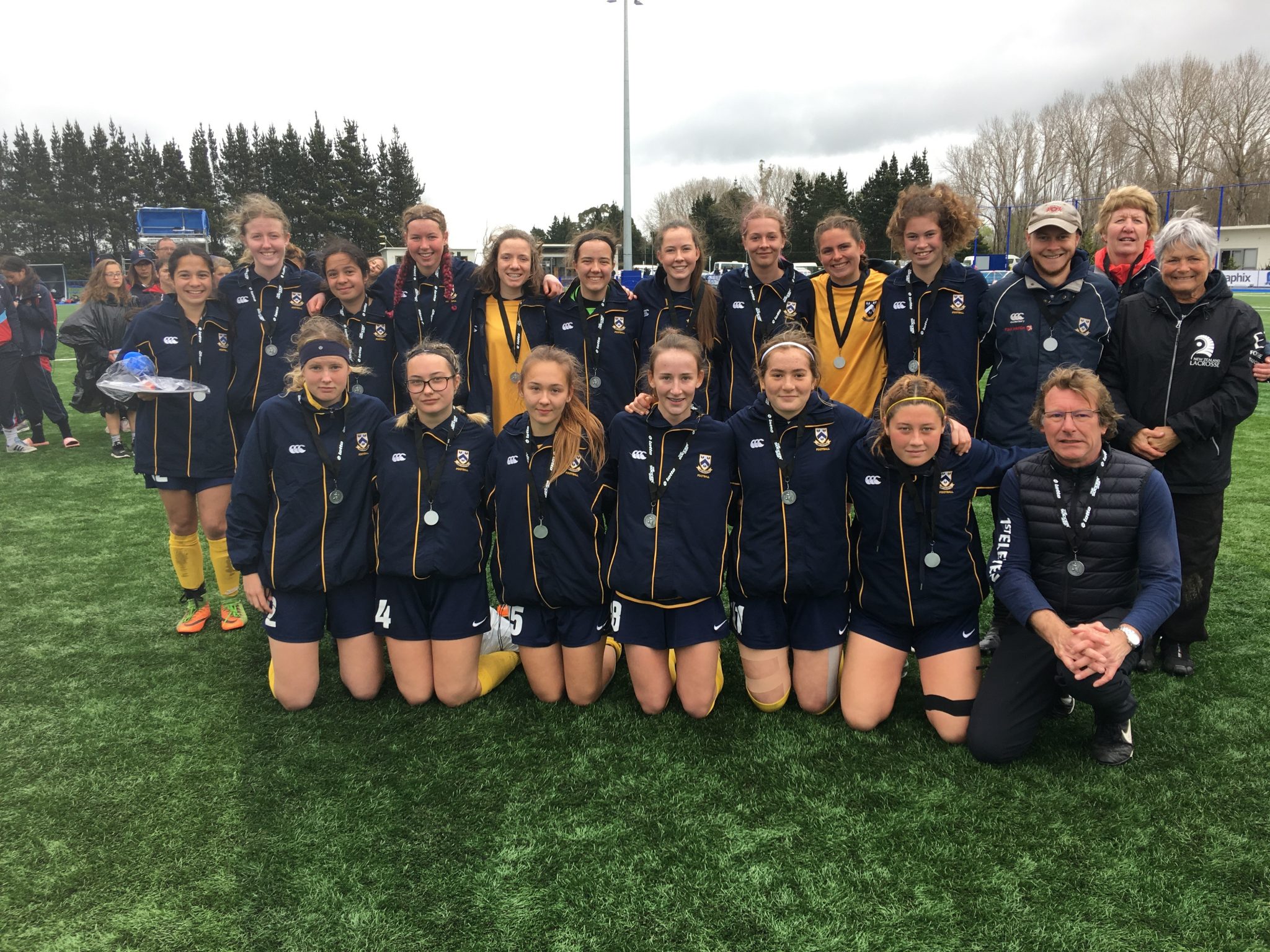 06 Sep Winter Tournament: Hillcrest Girls Football Runners-up
Posted at 15:47h in Featured, Football, News by Tony Rogers
As the Annual New Zealand Secondary Schools Winter Tournament enters its final days around the country Hamilton's Hillcrest High School Girls Football finished runners-up in the Lotto Premier Girls Championships at Yaldhurst Park in Christchurch in bitterly cold conditions. Up against Baradene College from Auckland, the Hillcrest Girls were unable to repeat their earlier victories against perennial top eight teams from Auckland such as Westlake Girls who they knocked out in quarter-finals and Mt Albert Grammar who they defeated through a penalty shoot-out in the Semis. Earlier in the week, they had defeated Marist College Auckland, Hamilton Girls High, St Hilda's College, Dunedin and Otumoetai College. St Peters School also represented the region at the Premier tournament.
Over the next two days, some 25,000 secondary school students will return home with tournament week experiences behind them from almost 80 events across NZ.
Summer Tournament Week
Monday 25 March – Saturday 30 March 2019
by Mr Overmayer on April 02
Summer Tournament Week began on Monday 25th March, although many of our teams were preparing the weekend before, with our Rowers representing Hillcrest High School in style at the traditional Maadi Parade. If you've never been or don't know what a Maadi Parade is, picture a Tertiary Graduation march through the streets of Hamilton.
Our Girls Futsal team travelled down to Windy Welly and were later met with our Boys Futsal Team. There was much to be excited about in the Girls Futsal domain, having been undefeated in local competition. It was a very tight final against Rangiora, losing by one point in the last breath of the game. However, this meant the girls secured the title of runners up in the tournament, placing 2nd best in New Zealand. A massive congratulations to Libby Gillard who won the Golden Glove award, as the top Goalkeeper of the tournament. Our Boys also battled through to achieve an impressive 8th in NZ. No easy feat with 40 other Boys High Schools entered in the tournament.
Our Volleyball teams were competing in Palmerston North and entered Nationals with their heads high; boys as Waikato Secondary Schools Champions and girls as Runners Up. It was a tough pool for our boys, having to face off against big names such as Western Heights, De La Salle and Tauranga Boys. A nail-biting loss to Tauranga with the first set 28 – 30 and a win for the next two sets to lose the tie-breaker 13-15, meant our boys were only 2 points away from making the quarter final; as Tauranga Boys later went on to win the competition. Overall our boys finished 13th and our girls finished 28th. This is an exciting result as it means the future girls of Hillcrest High School Volleyball will have an opportunity to play in the top division at next year's National Tournament. For the first time we sent our development team to tournament, gaining valuable experience which will bode well for our future programme.
Our rowing squad proudly represented the school at the biggest regatta of the season, the Aon Maadi Cup. Results included four top 15 placings. One in the girls U18 novice coxed four, the other in the girls U15 coxed four, girls U15 coxed quad scull and the boys U15 double scull. The crew also had the pleasure of being interviewed by Sky TV at the event and will have an opportunity to visit our elite High Performance Rowing Centre in the coming month.